It's summertime, which means little ones can be found outdoors playing games, going on adventures and exploring—some of a Scout Elf's favourite activities! Between a game of tag and summer sports practise, there's often little time for kids to grab the snacks they need to play all day. To help kids stay as energetic as the Scout Elves for all their outdoor fun, parents can offer them these quick, on-the-go treats that are similar to the ones Mrs. Claus makes to satisfy the Scout Elves at the North Pole!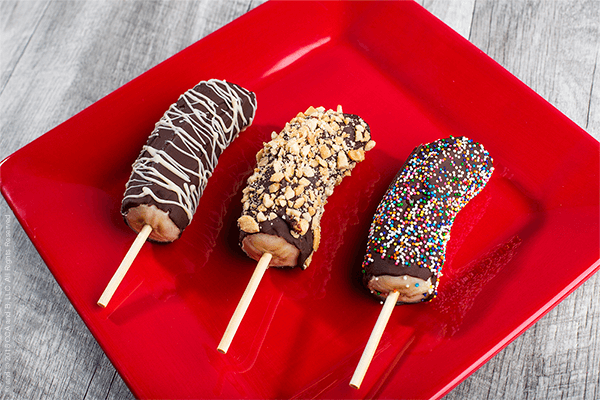 Banana Pops
Banana Pops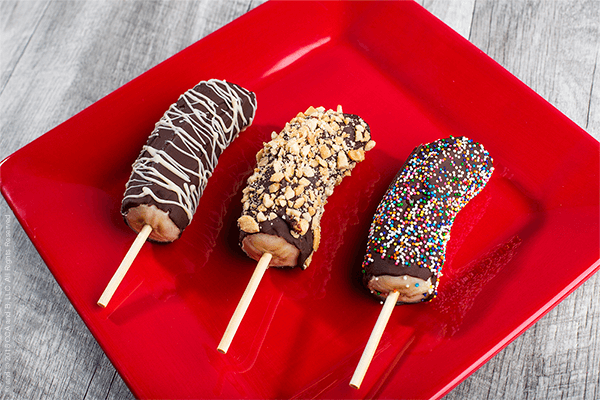 Makes 12 pops
You'll Need:
6 large bananas
12 wooden sticks
24 oz. semi-sweet chocolate, chopped into small pieces
Peanuts (chopped)
4 oz. white chocolate
Sprinkles
Baking sheet
Parchment paper
Bowls
Instructions:
PEEL

and cut each banana in half to create 12 banana pops.

INSERT

sticks through each piece of banana, and place them on a parchment paper–lined baking sheet. Freeze the bananas for approximately 1 hour or until they are firm.

PLACE

your toppings in individual bowls.

PLACE

the chopped chocolate in a bowl, and microwave it in 30 seconds increments, stirring between each heating.
Once the chocolate is melted,

REMOVE

the bananas from the freezer, and cover one with the chocolate. Helpful hint: Use a spoon to drizzle the chocolate on the banana over top of the bowl of chocolate.
Working quickly,

SPRINKLE

the toppings of your choice on the banana pop. Helpful hint: The chocolate will dry fast, so be sure to complete one banana pop at a time.

PLACE

the banana back on the baking sheet, and repeat steps 5 and 6 until all bananas are completed.

ENJOY

, or pop back in the freezer for a future treat! Helpful hint: Be sure to let banana pops thaw 10–15 minutes before eating.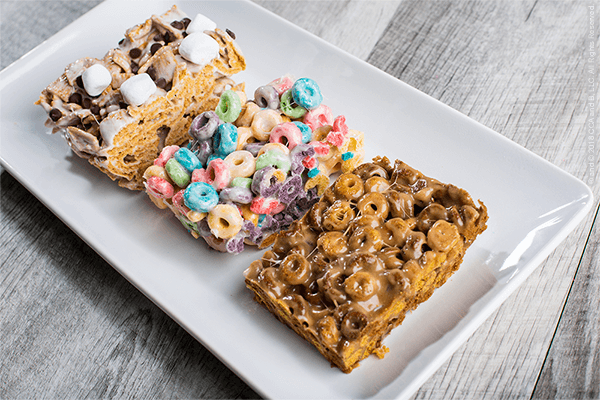 Cereal Bars
Cereal Bars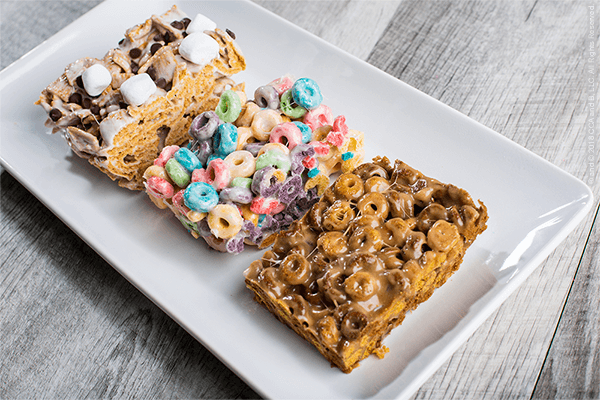 You'll Need:
For Fruity Cereal Bars
2 tbsp. butter
10 oz. marshmallows
5 cups fruity cereal
For S'mores Cereal Bars
2 tbsp. butter
10 oz. marshmallows
5 cups graham-flavoured cereal
1 cup chocolate chips
1 cup mini marshmallows
For Chocolate Peanut Butter Bars
2 tbsp. butter
10 oz. marshmallows
5 cups chocolate cereal
½ cup peanut butter
Instructions:
GREASE

a 9"x13" pan. Set aside.
In a sauce pan,

MELT

butter. Add marshmallows gradually, stirring until smooth.
If making the chocolate peanut butter bars,

ADD

peanut butter to the mixture now. If not, go to step 4.

STIR

in the cereal.
Evenly

PRESS

the mixture into the greased pan.
For the s'mores cereal bars,

SPRINKLE

chocolate chips and mini marshmallows on top. If not, go to step 7.

CUT

into small squares, and enjoy!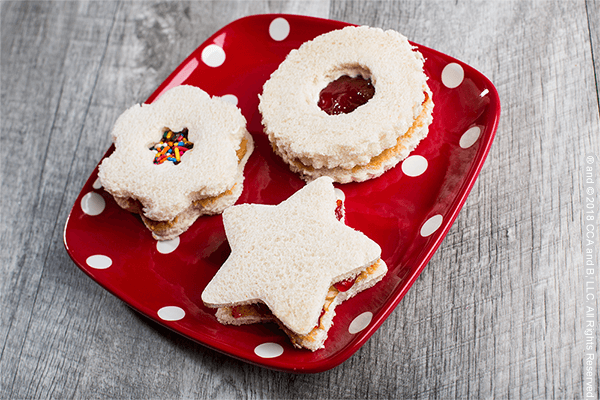 PB&J Cutouts
PB&J Cutouts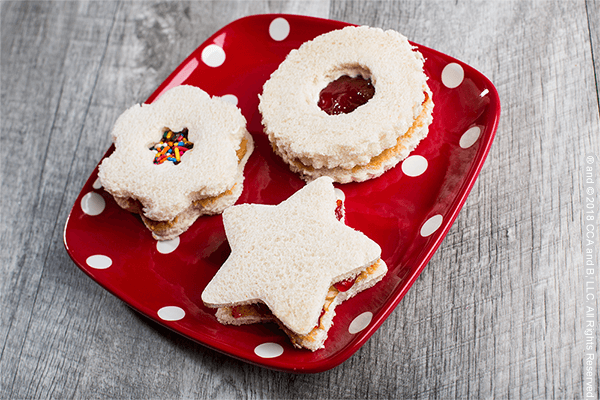 You'll Need:
Bread
Cookie cutters
Sprinkles
Peanut butter
Jelly
Butter knife
Instructions:
USE

a biscuit cutter to cut two pieces of bread into the same shape.

SPREAD

one piece of bread with peanut butter and jelly.

TAKE

the other piece of bread and use a smaller biscuit cutter to create a window in the bread. Top the PB&J with the piece of bread containing the window.
(Optional)

SCATTER

hundreds and thousands in the window for a burst of colour!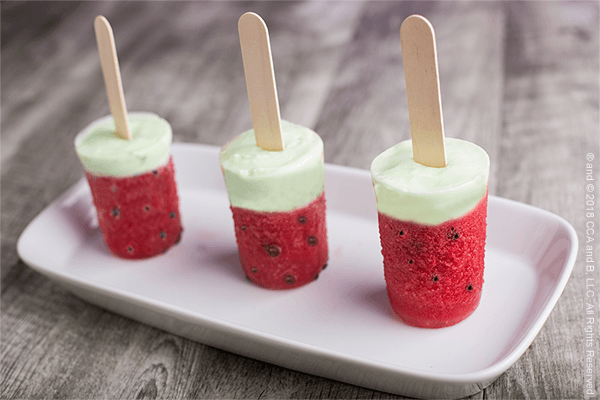 Watermelon Pops
Watermelon Pops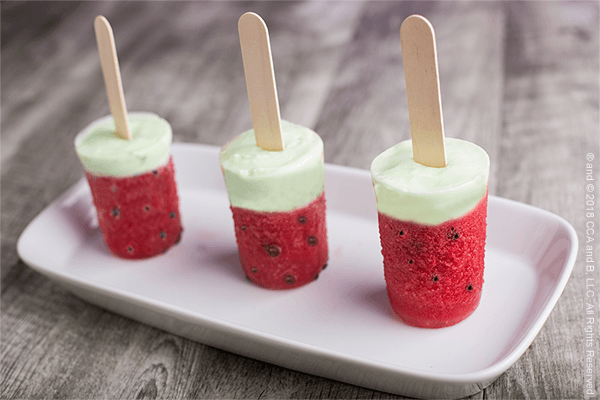 Makes approximately 10 pops
You'll Need:
5 cups seedless watermelon pulp
½ cup sugar
¼ cup mini chocolate chips
1 pint lime sherbet, softened
Small plastic or paper cups
Wooden craft sticks
Blender
Instructions:
PLACE

the watermelon and sugar in the blender, and puree until smooth.

PUT

the watermelon into individual cups, leaving about an inch at the top of the cup. Freeze until slushy (about 4 hours).
Using a skewer or chop stick,

PUSH

the mini chocolate chips into the pops.

PLACE

the pops back in the freezer for about an hour.

USE

a spoon to put softened sherbet on top of each pop.

PLACE

a wooden craft stick into the pop to create a handle.

FREEZE

the pops overnight.
Before enjoying,

THAW

the pops for about a minute, until they can be pulled out of the cups.

ENJOY

this cool, refreshing treat!
These recipes may contain ingredients that can cause allergic reactions in certain individuals. Before using our recipes, always cheque the ingredient list and food labels of all ingredients and be sure to seek advice from a qualified physician if needed.