It will be Scout Elf Return Week™ before you know it, and your elf will be planning an impressive arrival in your home! The Scout Elves picked some pictures of their favourite arrivals to show you how your elf may choose to arrive this year.
Scout Elf Landing Net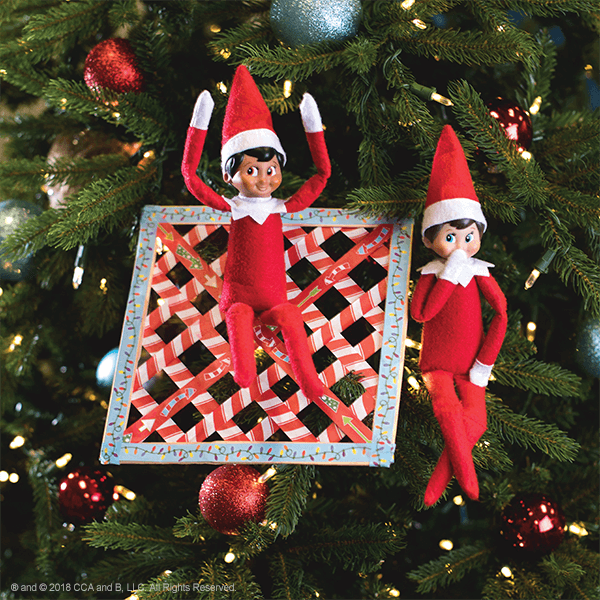 Incoming! This Scout Elf wanted a soft landing for their first visit of the season, so they fashioned an adorable Scout Elf Landing Net out of craft sticks and some cute sticky tape from Scout Elves at Play® Stick Quick.
---
Sweet Scout Elf Welcome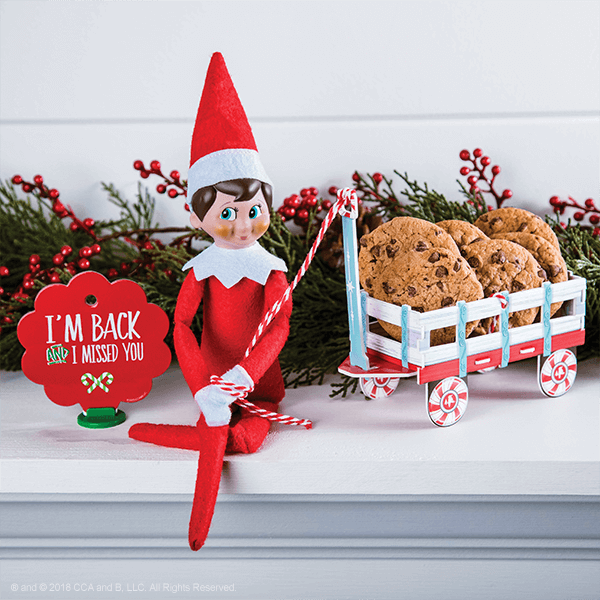 What a sweet surprise—this elf brought fresh cookies straight from Mrs. Claus' Sweet Shop™ at the North Pole. He brought them to his family in the Scout Elves at Play® Orna-Moments™ Wintry Wagon. To make this idea their own, your elf may bring your child's favourite sweets and write a special note to present the sweet treat!
---
Snow Slide Mountain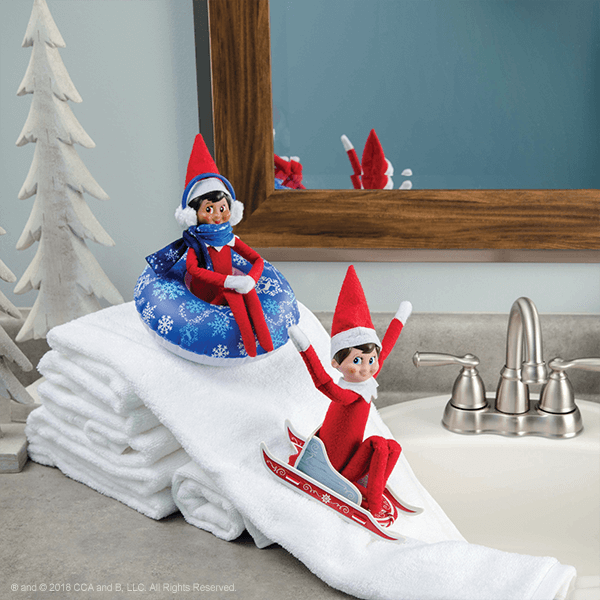 These Scout Elves are sliding into the season using towels to make a snow-covered mountain and two of their favourite props: the Scout Elves at Play® Orna-Moments™ Snow Day Sled and the Totally Tubular Snow Set.
---
Thanksgiving Hello
In the U.S., Scout Elf Return Week™ falls around Thanksgiving, which is why this elf decided to land right on the table as a fine-feathered friend! To recreate this idea, your elf may use felt to fashion some feathers of their own, and pose near your family's fall décor for a holiday hello!
---
Holiday Hang Glider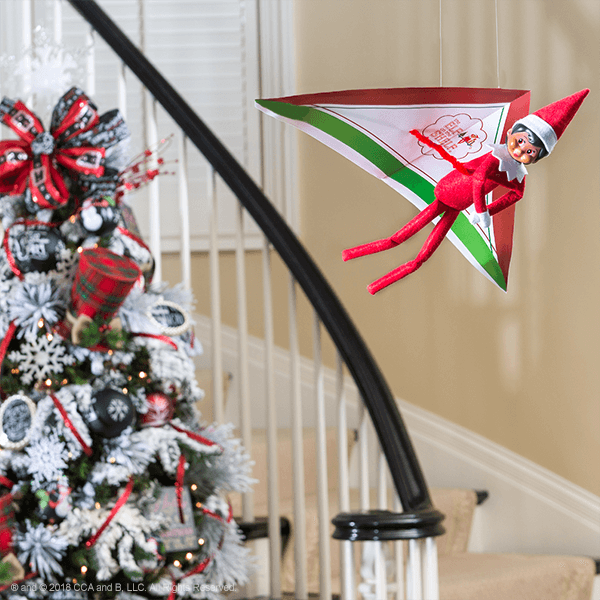 This Scout Elf came sailing in the door for a high-flying surprise! Luckily, your Scout Elf can do the same thing with the help of the Scout Elves' template to make this entrance idea a total breeze!
---
Wreath Arrival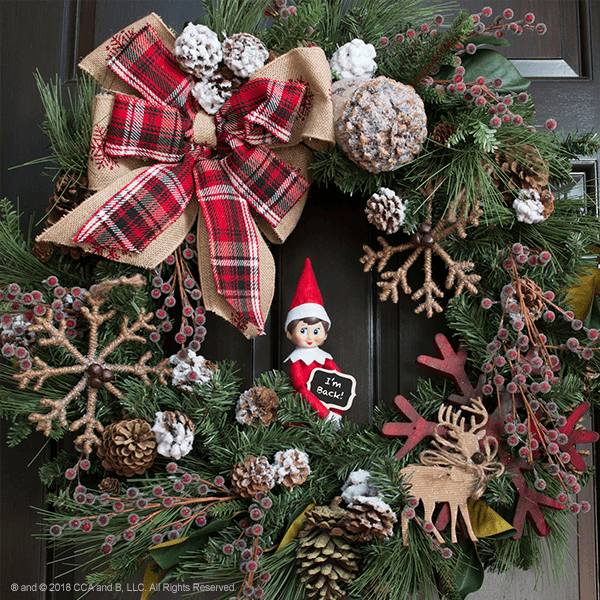 Holly berries, garlands, trees, wreaths—holiday décor makes Scout Elves feel right at home! This elf plopped right down into a wreath to make his family do a double take! Your Scout Elf may sneak into a prominent piece of décor in your home—like a wreath—to make their own epic entrance.
---
Christmas Tree Crash Landing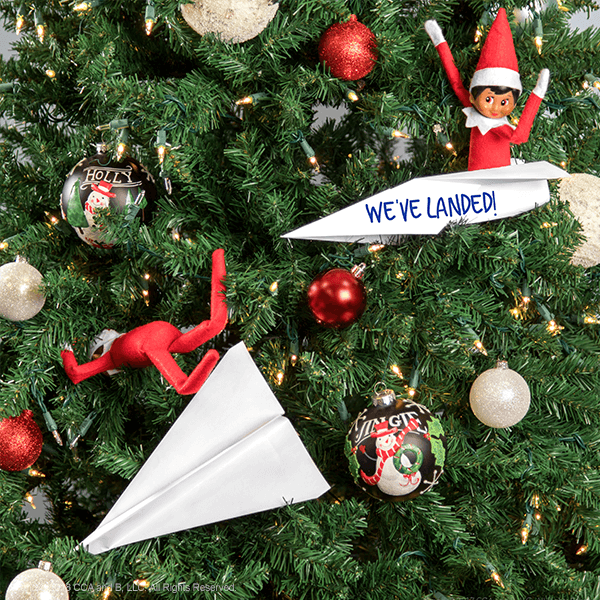 Incoming! These Scout Elves staged a funny paper plane crash in their family's Christmas tree. Your elf can fold up their own plane and careen onto a mantel, into a tree or somewhere else in your home for a playful entrance.
---
Present Pop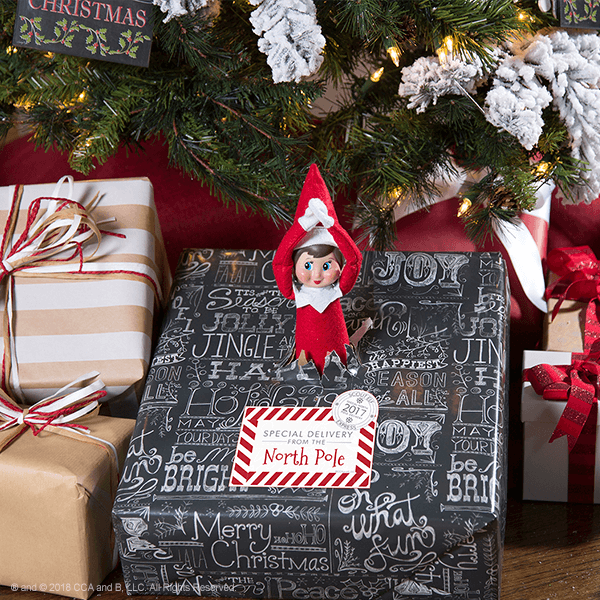 This Scout Elf wanted to leave a gift for their family but not just any gift! She popped right out of a box to announce her presence, and your elf can too! With this label, it's easy for your elf to burst with excitement—and right out of a present—to greet you.
---
Streamer Surprise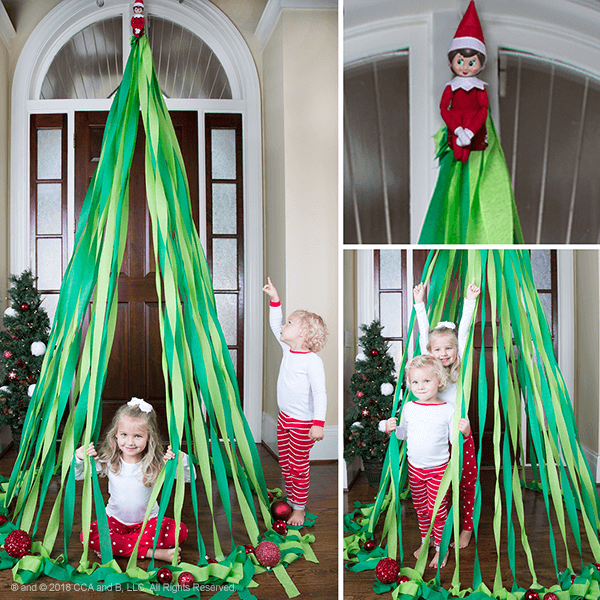 For an extra touch of Christmas spirit, this Scout Elf created a floor-to-ceiling "Christmas tree" using different colours of green streamers and tape. After connecting the streamers to the ceiling and securing them with tape, your elf will fan the bottoms of the streamers out to create a "tree" perfect for your little ones to play in!
---
Red Carpet Roll Out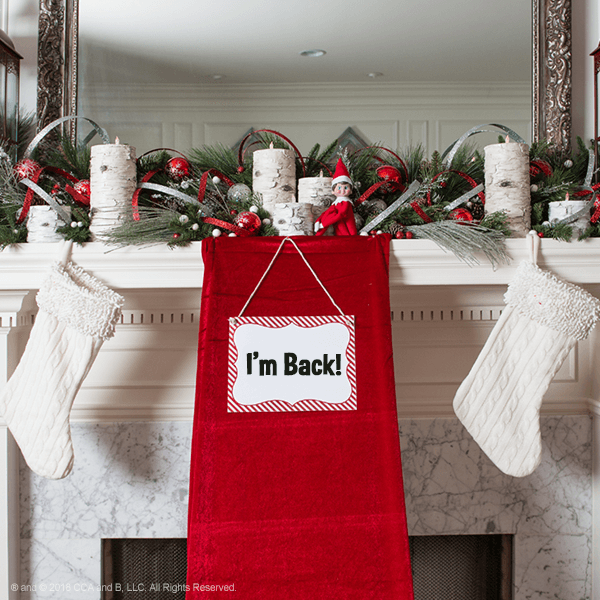 Most often, your Scout Elf will come back with a special surprise for you, but if your family is eager to see your elf again, you and your kids can create your own surprise, like this red carpet roll-out! All you need is a piece of red fabric that you can drape in a visible place in your home and a welcome sign. Set up the surprise, and in the morning your elf will stroll in on their very own red carpet!
Before you or your elf get to work recreating any of these inspirational photos, be sure to read these safety warnings. Santa wants to make sure everyone stays safe!