Celebrate summertime with a refreshing treat you'll want to make over and over, all summer long! The Scout Elves' recipe combines sweet, tart berries with juice for a total treat to the taste buds! This frozen favourite is just the "berry" great treat you need for a very great summer!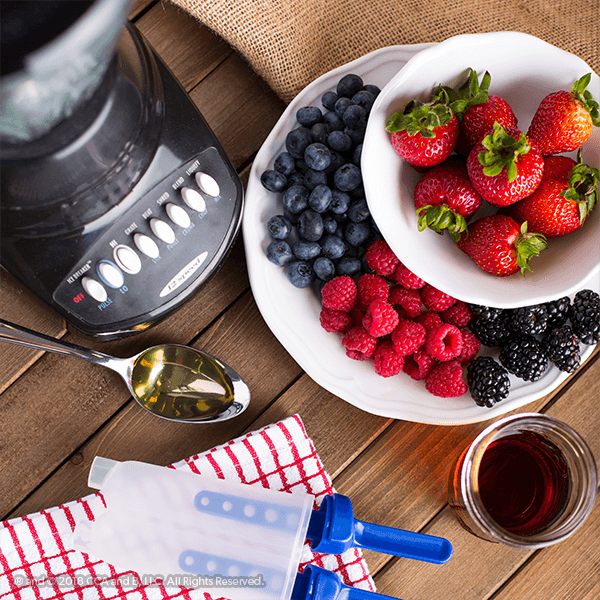 You'll Need:
½ cup strawberries
½ cup blackberries
½ cup raspberries
½ cup blueberries
½ cup fruit juice of your choice
1 tablespoon honey or agave nectar (optional)
Blender
Ice pop moulds or small plastic or paper cups
Wooden craft sticks (only if using plastic cups or if required for your ice pop moulds)
Saran wrap (only if using plastic cups)
Instructions:
In a blender,

MIX

together the fruit (fresh or frozen will work) and a juice of your choosing. For their pops, the Scout Elves stuck with a berry-flavoured juice to match the flavour profile of the berries, but feel free to get creative and add another flavour into the mix!

For sweeter pops,

ADD

a tablespoon of honey or agave nectar to the blender. Skip this step if you want to let the fruits and juice speak for themselves.

POUR

your mixture into the ice pop moulds. If your moulds did not come with plastic sticks or holders, use the wooden sticks according to the directions on the mould.

If you're using disposable cups instead, pour the mixture into the cups, and cover each with saran wrap. Cut a small hole in the middle of the wrap to place the wooden stick through (the saran wrap will help to hold stick in place as your pops freeze).

PLACE

the pops in the freezer for 3–4 hours, making sure they're frozen before trying to remove them from their moulds.

ENJOY

your berry ice pops as a refreshing treat on a sweltering summer day!
Create these refreshing berry ice pops so little ones can cool off after partaking in these fun outdoor games!
This recipe may contain ingredients that can cause allergic reactions in certain individuals. Before using our recipes, always cheque the ingredient list and food labels of all ingredients and be sure to seek advice from a qualified physician if needed.