These beachy treat cups are the Scout Elves' way of saying, "Aloha!" to some of the warmest months of the year. The Scout Elves whose families live in warm-weather climates were inspired to create this summery snack, which features gelatin the hue of crystal-clear waters and graham biscuit beaches. Enjoy this warm weather treat with your family while soaking in the summer sun!
You'll Need: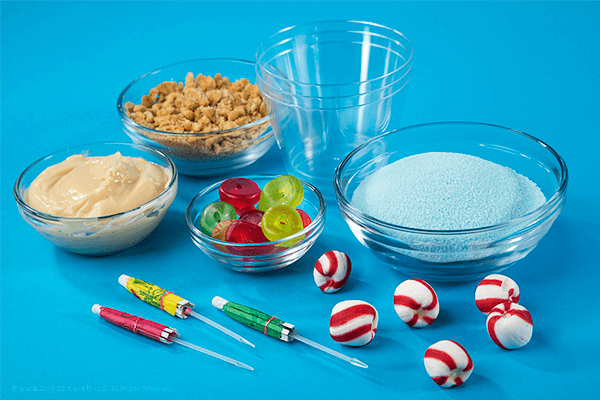 1 package blue gelatin
1 package instant vanilla pudding
Round peppermint balls
Drink parasols
Teddy bear–shaped graham crackers (approximately 2 cups crushed and individual pieces)
Round gummy sweets
Instructions:
Makes approximately 3 dessert cups
MAKE

the gelatin and pudding according to package directions.

POUR

the gelatin into plastic desserts cups, leaving room at the top to fit the other ingredients.

REFRIGERATE

the gelatin for approximately 4 hours.
In a zip lock bag,

CRUSH

about two cups of the teddy bear–shaped crackers.
When the gelatin is set,

SPREAD

a thin layer of pudding on top, followed by a layer of the crushed graham crackers.

DECORATE

each cup with teddy bear–shaped graham crackers, peppermint "beach balls," drink parasols and gummy "life preservers."
This recipe may contain ingredients that can cause allergic reactions in certain individuals. Before using our recipes, always cheque the ingredient list and food labels of all ingredients and be sure to seek advice from a qualified physician if needed.